We are a leading provider of SharePoint web parts and solutions both for SharePoint on-premise and Office 365, serving thousands of customers around the world since 2009.
Contact us..
Discover our most recent additions: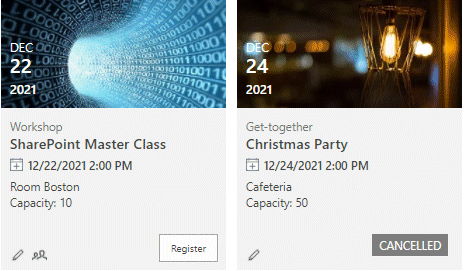 SharePoint Event Manager
Monday, January 03, 2022
The "Event Manager" web part allows you to create an easy-to-use event management system.
Users can register and un-register, view the event details and add events to their personal mailbox calendar. The web part automatically creates the "AEEvents" calendar list and the "AEAttendees" list in the current site.
Administrators can also add and edit events, view the attendees list and send e-mails to the attendees. The events can be flagged as "Draft", "Published" and "Cancelled". Images can be assigned to each event by adding the image as an attachment to the calendar list item.read more..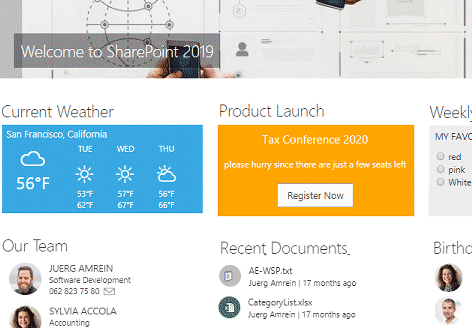 SharePoint 2019 "Modern" Web Parts
Saturday, October 02, 2021
Are you planning to use SharePoint 2019 "modern" sites/pages but notice that there is only a restricted set of out-of-the-box web parts to be chosen from ?
We thus proceeded to make all our web parts available for SharePoint 2019 "Modern" sites.read more..

SharePoint Mega Menu
Tuesday, August 10, 2021
The Mega Menu allows to easily set up a mega menu via a "hamburger" icon in the top SharePoint bar.
It can optionally display a site map or a custom HTML based mega menu and supports Security trimming by Sharepoint groups or AD groups.
The Web Part can be used with SharePoint 2013, SharePoint 2016, SharePoint 2019 and Office 365.read more..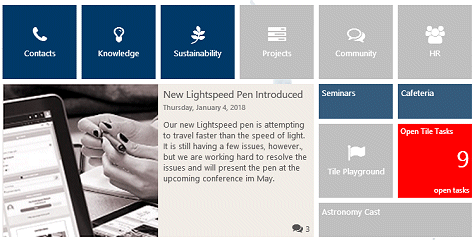 Tiles Web Part
Thursday, March 22, 2018
The Tiles Web Part allows to easily create a compelling homepage or navigation without having to set up a multitude of web parts and/or create custom page layouts. It also includes 30 specialized tiles to display list items, weather information, Twitter and RSS feeds and videos.
It arranges the tiles in a freely designable responsive grid containing tiles of varying size and functionality.

The Web Part can be used with Sharepoint 2010, Sharepoint 2013, Sharepoint 2016 and Sharepoint 2019 .

The Tiles Web Part lets you:



define the default tile dimension (typically square)

define a custom color palette to adhere to your corporate branding

CSS styles to customize the look and feel

Tile security trimming by Sharepoint groups or AD groups

define personal tiles (each user can configure his/her own tiles)

define a page backdrop (color or image) and lets you disable the Quick Launch menu

add tiles of different functionality:




Text or Image only


linked tiles with text and/or icon and/or image background


display list items (as eg. "top news", "most recent blog posts", "new documents" etc.)


rotate content (text and/or images)


random information chosen from a Sharepoint List or Library (text and/or image)


the current date


World clock


Google Map


KPI information


RSS Feed


Stock Quote


Twitter tweets


Weather information


Video (embedded or popup)

©2021 AMREIN ENGINEERING AG