2.27 List Tile
The "List" tile type lets you create tiles displaying the items of a SharePoint list or library.
You can select a specific set of items by referring to the corresponding list view.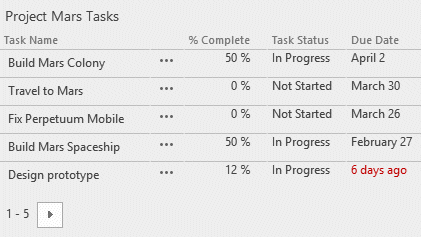 Example:

This example displays the tasks contained in the "Tasks" list:

Title: Project Mars Tasks
URL: http://domain/Lists/Tasks/AllItems.aspx
Please enter a comment below if you want to give feedback or have suggestions for improvements:
User Comments
Post a Comment



Dan
3/1/2021 19:20
When I add to AE tiles to Web Part and configure for list there is nothing in the background.
Juerg
3/1/2021 19:37
Dan,
can you quickly check the web partís version number by opening the web partís tool pane and looking it up at the top ?