Rancho Santiago Community College District
Case Study
Customized Features Combine with Out-of-the-Box Ease for this Dynamic Web Site



URL: http://www.rsccd.org |

Download this Case Study as an Adobe PDF file (415 KB)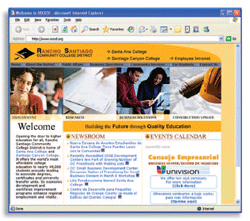 School Web Services (SWS) has partnered with the Rancho Santiago Community College District (RSCCD) since 2000 when we initially worked with both the District Information Technology Office and the Office of Public Affairs and Governmental Relations to develop and implement a high-profile site for the district.The site complemented the district's advertising campaign with a corporate-quality online presence:
"School Web Services helped our college district build a Web presence to be proud of. They listened to our requirements and then defined objectives.Work was performed on time, within budget, and SWS suggested innovative features to make our Web site more user-friendly. The resulting project delivers greater access to information for different categories of users within an environment that reflects the character and values of our organization.We're delighted."
Joan Barnes, Director of Public Affairs and Governmental Relations, Rancho Santiago Community College District
The initial site, while mostly fixed HTML, included many dynamic components, such as an event calendar, press releases, job postings, and board agendas and minutes.Templates for these dynamic areas allowed non-technical employees to maintain Web content without a Webmaster.
In 2003, a fresh collaboration began toward developing the Web site further. The District's Director of Public Affairs and Governmental Relations wanted a design with a strong emphasis on serving the community. Additionally, the Vice-Chancellor of Information Technology required distributed content management throughout the district. It was his goal that all district areas should have the ability to maintain their own pages.
To meet these ends, SWS implemented the Campus Platform package with a number of custom-designed features, a notable one being online registration for Community Services programs. Prospective students can now view the availability of non-credit courses, add classes to their carts, register, and pay online. Due to the open architecture of the Campus Platform, RSCCD was able to easily integrate the package with the district's cashiering software. Even though calendars, press releases, and employment listings can be published with out-of-the-box ease, SWS provided customized Newsroom features, enhanced Human Resources Job Management features, and content authoring groups to meet the unique needs of the Rancho Santiago district.
Additionally, SWS performed most of the content migration and application porting, and then completed the conversion by working extensively with Information Technology Services. ITS and SWS collaborated in accommodating the ongoing feature requests of district managers. After much anticipation, the new RSCCD site went live in October 2004:
"The SWS Campus Platform has proven to be the ideal solution for our District's Web site requirements. This cutting-edge technology allows us to maintain our Web site efficiently, without burdening the IT project slate. The Campus Platform's architecture supports faculty and staff 'self-serve' management of content. Campus Intranet is a cost-effective product set that allows us to immediately deploy and manage our Web site content." (Miles Yan, Associate Vice Chancellor, Information Technology Services, Rancho Santiago Community College District)
With its present Web site, the RSCCD has utilized all of the features of the SWS Campus Platform, including broadly-distributed and user-friendly creation tools and automated archiving that keeps material current. Further, by individualizing and adding features, the district has discovered new ways to reach out to students and the community, making registration, information, and access easier than ever. SWS provides the technology and services Rancho Santiago needs to create its energetic, community-focused Web presence.


©2019 AMREIN ENGINEERING AG