Microsoft Sharepoint Web Parts
Exchange Upcoming Events SharePoint Web Part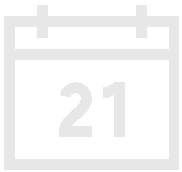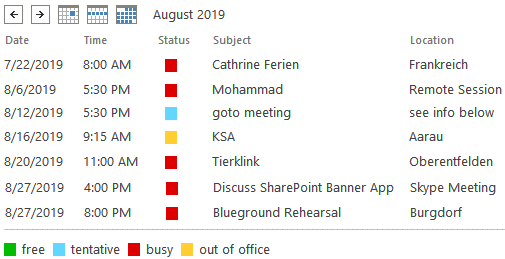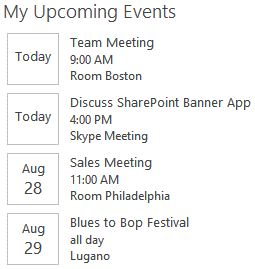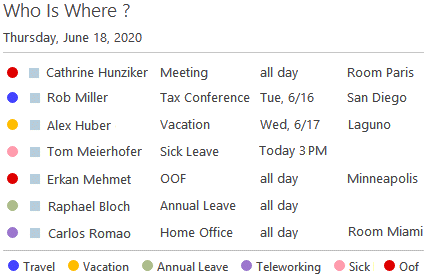 The Exchange Upcoming Events Web Part displays the appointments of the selected Microsoft Exchange mailbox(es) or Exchange public folder calendars as a list. The Web Part can be used with Windows Sharepoint Services V3, MOSS, Sharepoint 2010, Sharepoint 2013, Sharepoint 2016 and Sharepoint 2019 (both "classic" and "modern" pages). The following parameters can be configured:

daily, weekly and monthly view
Aggregation: Mailbox Calendars and/or Public Folder Calendars to be displayed
group the list by calendar or date




SharePoint 2019 'Modern' version »
Product
Price
Exchange Upcoming Events Web Part
30 day Evaluation Version (SP 2007 and SP 2010)

Free
Exchange Upcoming Events Web Part for SP2013
30 day Evaluation Version (SP 2013)

Free
Exchange Upcoming Events Web Part for SP2016
30 day Evaluation Version (SP 2016)

Free
Exchange Upcoming Events Web Part for SP2019
30 day Evaluation Version (SP 2019)

Free
Exchange Upcoming Events Web Part License
per Web Frontend Server License Key
USD 150.00
Web Part Installation Instructions
Deployment Instructions for SP 2019 "modern" pages
You can also send us a PO via e-mail to info@amrein.com
download the Web Part Installation Instructions (PDF file)

deploy the feature to your server/farm as described in the instructions.

Navigate to a page where you would like to place the webpart and choose "Site Actions/Edit Page"
Add the web part to the appropriate zone. The web part is listed in the "Amrein Engineering" web part gallery section
Configure the Web Part properties in the Web Part Editor's "Mailbox Settings" and "Miscellaneous" pane sectiona as described below:



| | |
| --- | --- |
| | |



Please enter a comment below if you have problems with the installation, want to give feedback or have suggestions for improvements:
User Comments
Post a Comment



Exchange Savvy


8/2/2023 10:10
Follow these procedures to move <a href="https://www.exchangesavvy.com/migrate-exchange-2013-public-folders-to-office-365/">Migrate Exchange 2013 Public Folders to Office 363</a>:
1. Verify you have the permissions required to transfer Public Folders.
2. Configure Office 365 and Exchange 2013 in a hybrid setup.
3. To build an Office 365 migration endpoint, use the Exchange Admin Centre.
4. Select the Public Folders you wish to transfer and create a batch migration job in the Exchange Admin Centre.
5. Keep track of the migration's development and fix any problems or mistakes that appear.
6. After the transfer is finished, make sure the Public Folders were successfully transferred to Office 365.
7. Make any necessary client configuration updates to include the new Office 365 Public Folders.

More FAQs for the EWS Calendar Web Part
© 2023 AMREIN ENGINEERING AG